-A responsible person must undertake a daily walk around check before a vehicle is used. The DVSA recommend this check is carried out before you first drive the vehicle on the road each day.
Where more than one driver will use the vehicle during the days running, the driver taking charge of a vehicle should make sure it is roadworthy and safe to drive by carrying out their own walk around check.

 In order to read this document, Adobe Reader is required.
You should check your tyres and wheel nuts as part of your routine check of the vehicle. A damaged tyre, such as one with exposed ply, can have a major effect on your vehicle's handling and will make it a danger to you and other road users.
All tyres must be properly inflated and in good condition. Tyre failure can have serious consequences. This can be avoided by checking your tyres at the start of each journey.
It's also an offence to drive with one or more tyres that have these defects. Driving at higher speeds and for longer periods, such as on motorways, can cause your tyres to overheat and disintegrate. You should make a point of checking them when you stop for a break.
Energy-saving tyres keep fuel costs down because they have a lower rolling resistance and better grip than ordinary tyres. You should consider this when replacing your tyres.
Tyres over ten years old are not to be used on the front steered axles of LGVs, 
It is also a requirement for the manufacturer's date code to be legible on all tyres fitted to LGV tractor units and trailers over 3.5 tonnes.
If a tyre is a retread, then the manufacturer date is taken from when the retread was carried out.
Loose wheel nut indicators or lug nut indicators are used both by mechanics and drivers to identify lug nuts that require tightening and by accident investigators to detect faults after accidents.

A torque wrench is essential for fitting a road wheel. All wheel nuts must be tightened to the specified torque with a calibrated torque wrench.
The wheel nuts, fixings and markers should be checked every day before you start your journey. 
If you notice any missing wheel nuts, park and seek assistance.
Always make sure your vehicle is secure, and level before a wheel is changed. Apply the parking brake and use chocks if they're available. 
Wheel nuts should be rechecked after about 30 minutes if the vehicle hasn't moved, or after 40 to 80 km (25 to 50 miles) of driving.
Your tyres must be in good condition and properly inflated to the manufacturer's recommended pressure. Research has shown that the tyres most likely to fail are those that have been over-inflated.
When a tyre explodes, fragments are thrown over a wide area. This can create a serious hazard for other drivers. You should regularly check your tyres for cuts, damage and pressure. Frequent checks and proper maintenance can help prevent a blow-out.
Tyres have codes shown on the wall of the tyre. These refer to the maximum load and speed capability of the tyre.
The fifth-wheel coupling is a device to connect the tractor unit to the trailer. It allows articulation between the tractor and trailer, and it should be regularly maintained.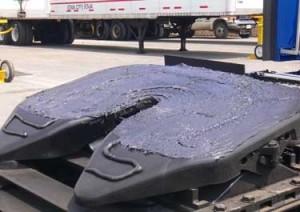 The fifth wheel requires regular lubrication and inspection. This should be carried out either monthly or every 10,000 km -whichever comes first.
Whenever you uncouple a trailer, you must work through the uncoupling process methodically. Stop on a level surface, making sure that the brakes are applied on both the vehicle and the trailer.
When recoupling, you must connect the dog clip to secure the kingpin release handle and check that all connections, systems and lights are working correctly.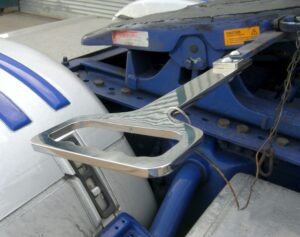 Draw Bar Units
The eyelet coupling on draw-bar units should also be checked on a regular basis for damage or wear. Heavy duty grease should be used as lubrication.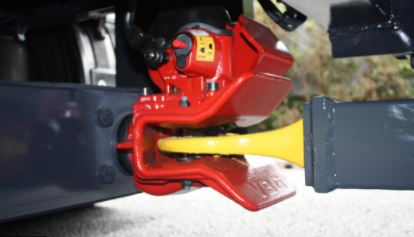 VEHICLE MAINTANANCE & COMMON PROBLEMS
Workshop manuals are available for advice about the maintenance and repair of your vehicle. These are essential for anyone who intends to service or repair their own vehicle. Making repairs on a vehicle is only advisable for competent individuals.
Don't take risks. As soon as you detect a fault on your vehicle, you must take action. Always report minor defects as soon as you detect them. Minor faults can become major ones if they aren't repaired quickly.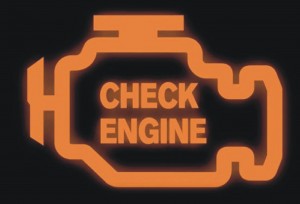 As the driver, it is your responsibility to ensure that the vehicles you use are roadworthy. It is an offence to use an unroadworthy vehicle on the road.