When driving, it is crucial to consider the load you are carrying and its effect on the vehicle.
You may need to adjust your driving style based on the type of truck you're controlling.
Ways of preventing a vehicle from becoming overloaded
Make sure that your lift / tag axle is used correctly. Not using this axle when the vehicle is loaded means that axles or gross weights could exceed their allowed limits.
THE CONSEQUENCES OF AN OVERLOADED VEHICLE
It makes the vehicle less stable, difficult to steer and take longer to stop. Vehicles react differently when the maximum weights which they are designed to carry are exceeded.
A massive strain is put on vehicle tyres. Overloading can cause the tyres to overheat and wear rapidly, which increases the chance of a premature, dangerous and expensive failure
Insurance cover is void. Overloading a vehicle is illegal, and therefore insurance cover can be voided if the vehicle is involved in a crash.
It is unfair to other operators. Exceeding weight limits is unfair competition as more load is moved per journey.
Overloading an axle has an impact on the environment, causing damage to road surfaces. 
Fuel consumption increases when carrying extra load, which will increase your costs.
When a fixed penalty notice or conditional offer is issued for an excess weight offence, the examiner will prevent the vehicle from going further.

This is to stop an overweight vehicle from being used on the road and to preserve road safety. A fixed penalty is the preferred option for dealing with excess weight offences unless:

The offence is too severe, and the maximum number of penalty notices would be exceeded.
| SEVERITY | ENDORSABLE | FIXED PENALTY |
| --- | --- | --- |
| | | |
| 10% up to but not including 15% | | |
| | | |
The leading causes of lorries shedding their loads are driver errors, such as sudden changes of speed or direction, driving too fast for the conditions, and harsh braking.
If you become aware that any part of your load is insecure, you must stop as soon as it's safe to do so. Resecure the load before continuing your journey. If this isn't possible, then you must seek assistance. Don't take risks.
LOAD SHIFT ON CORNERS
The forces acting on a lorry will try to move it in a straight line as it enters a bend. The greater the weight, the greater the force. If you're going too fast, there's a danger that you could lose your load or tip over.
Vehicles carrying dangerous or hazardous goods need to have markings on them that identify the load. This will help the emergency services to deal with any incident quickly and safely.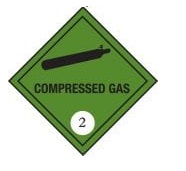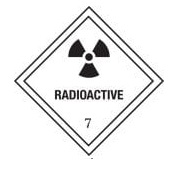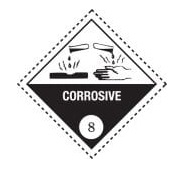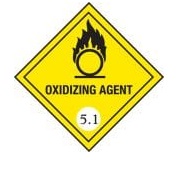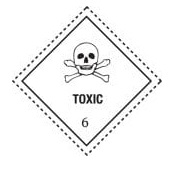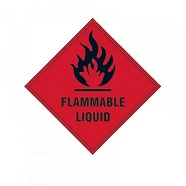 Not all loads or vehicles are the same. Choose a securing system that stops the load moving without creating other risks – like unnecessary manual handling and working at height.
Webbing straps or chains are often used to secure loads, but they are not suitable for every situation. For example, fragile or live loads need different securing methods to prevent damage.
The law states that loads MUST be secured to the vehicle bed to prevent 100% of forward movement, 50% rear movement and 50% sideways movement.
Failing to comply with these load containment measures can result in BOTH a driver and their employer being prosecuted. If the loading process was carried out by a third party, they may also be held responsible.
A driver, employer or load handler is responsible in the event of:
To ensure that all or part of a load cannot be ejected from the vehicle, it is important to plan how secure the load will be as this can highlight potential issues before they become an on-the-road problem.
The person responsible for loading should always prepare a written load plan for the driver so that they understand how the load has been secured. This information should also be made available to those who will receive the delivery.
When securing a load, the driver must use the most suitable type of restraint. Scrap metal for example is likely to have sharp edges that could wear through straps or ropes. Security of the load is the driver's responsibility; a load that has been correctly secured shouldn't move if an emergency arises.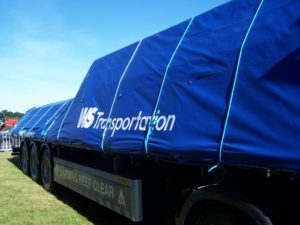 Start with the rearmost sheet, then work forward – If the load is sheeted incorrectly, the wind may get underneath a sheet, making it flap about. This is dangerous, as it can catch unsuspecting pedestrians or cyclists, and it can also seriously reduce the driver's view of what's happening behind.
When using ropes, the ends should be spliced or otherwise treated to prevent fraying. The rope should be of at least three-strand construction, with a normal diameter of at least 10 mm.
All spare sheets and ropes carried on the vehicle must be tied securely to prevent them from falling onto the road, where they may become a hazard for other vehicles.
Split-link and iron chains shouldn't be used to secure loads, as they're less reliable than solid-link and steel chains. For more information on the suitability of various-sized steel chains, consult the relevant British Standard (BS) leaflets.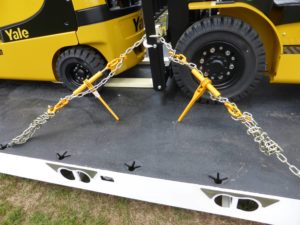 Webbing and ratchet straps can be used to secure most types of loads, but it's important to make sure that you use and store them properly.
As a general rule, if you're
transporting palletised goods,
boxes and stillages, you will need
at least one strap per row.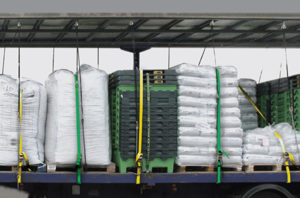 Nets are used as a way of containing items. They are primarily used on skips and tippers to keep the load from flying off when the vehicle is being driven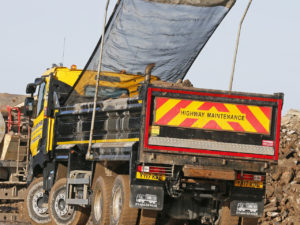 Twist locks are used to secure ISO cargo containers. When a container is in place, all locking levers must be in the secured position.
ISO containers should not be carried on vehicle's that do not have the ability to lock the container in place