The following documents must always be carried or on show when driving a LGV for hire or reward.
As the driver, it is your responsibility to make sure you have the correct licence entitlement for the vehicle you are driving.
If your licence is revoked for drink driving or other offences, you will automatically lose your LGV entitlement. You may also have to take an extended test once the ban has expired or convince the DVLA that you do not suffer from an alcohol problem.
Any medical condition that could affect your ability to drive a lorry safely may prevent you from holding a licence. These conditions include serious visual impairment, heart disease and some mental disorders.
For more information about medical standards, you should contact the Drivers Medical Branch, DVLA, Swansea.
ADDITIONAL TRAINING CERTIFICATES
Some driving roles may require you to undertake additional training.
These roles can include:
HOW TO GAIN AND KEEP THE DRIVER CPC
Apply for a provisional lorry licence
Pass the tests that make up the initial Driver CPC
Take 35 hours of periodic training every five years to stay qualified.
Sign a declaration every five years until you're 45 to show you still meet the medical standards.
Provide a medical report every five years after you're 45 to renew your driving licence – you need to do this every year when you reach 65.
If the vehicle you are driving is fitted with a digital tachograph unit, you MUST use your tachograph card.


You can only drive without a card if the one you previously have been issued with is lost, stolen, damaged, or malfunctioning.
You must carry the following when driving in Europe:
Some counties may require additional documentation.
UK drivers can continue to operate in the EU without the need for a visa, providing you do not spend more than 90 days in the EU within any 180 days.
You do not need a visa for entry into the EU if you hold an EU passport, but you may need a visa if you're travelling beyond the EU. You should check the entry requirements for the country you plan to travel to.
All vehicle drivers, passengers and any crew members must have a valid passport.
UK drivers need at least six months on a UK passport to travel to the EU. Drivers might need to renew their passport before they travel
If you drive a goods vehicle over 3.5 tonnes on international journeys, you must follow the rules on drivers' hours and tachograph use.
If you've been sick or taken other time off in the 28 days before your journey, carry a form called an 'attestation form' from your employer.
It should reflect activities that could not be recorded via tachograph due to technical reasons.
There can be several reasons why a driver may not be able to produce all the relevant evidence that an enforcement officer expects to find at a roadside check. It may be the case that he/she:
It's a serious offence to drive without insurance. In the UK, as well as an unlimited fine, you may be disqualified or given penalty points.
Driver hours and tachograph rules
You must comply with the UK-EU Free Trade Agreement (FTA) rules on drivers' hours and tachograph rules if you're driving a goods vehicle within the EU.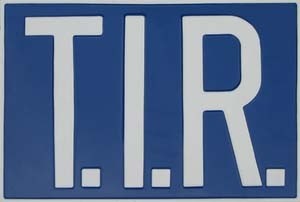 This allows vehicles to cross numerous borders without repeated customs checks. Goods are checked and sealed at the outset, and customs authorities then wave through the vehicle until it reaches its final destination.
TIR doesn't apply to journeys within the EU because there are no customs checks for EU-only trips.
The CMR is a consignment note with a standard set of transport and liability conditions, which replaces individual businesses' terms and conditions.
It confirms that the carrier (ie the road haulage company) has received the goods and that a contract of carriage exists between the trader and the carrier.
Generally, there will be four copies of a CMR note.
While the carrier is liable for any loss, damage or delay to a consignment until it is delivered, the trader is responsible for any loss or damage the carrier suffers resulting from incorrect details provided in the CMR note.
When starting a shift, it is important to make sure you have the correct delivery details and are aware of any scheduled delivery times that need to be met.
When hazardous goods are transported, the consignment must be accompanied by a transport document declaring the description and nature of the goods.
Documentation must be in accordance with the specifications set by the dangerous goods regulations.
You can be fined if you don't have an effective system of securing your vehicle from clandestine entrants.
The importation of illegal immigrants into the UK carries heavy penalties. A fine of up to £2000 can be imposed for each illegal immigrant. This fine can be imposed on each 'responsible person', including the vehicle owner, hirer and driver.
Security devices (e.g. a padlock, seals and tilt cord) to secure vehicles after loading.
Checking the security devices and vehicle thoroughly after each stop and before entering the UK
Recording checks on a vehicle security checklist
Operators must set up an 'effective system' to prevent the carriage of illegal immigrants. This should include operator documentation with advice on vehicle security and a list of checks to be made. These papers should be produced immediately if an immigration officer asks to see them.