[vc_row][vc_column][vc_column_text css=".vc_custom_1480536172155{background-color: #d16545 !important;}"]
CASE STUDY 95
[/vc_column_text][/vc_column][/vc_row][vc_row][vc_column][vc_column_text][ms-protect-content id="1895,1478″]
Case Study 95
Ken works for a tipper company and drives a seven year old rigid truck with a gross vehicle weight of 26 tonnes. He is currently working on a rail project in central London.
Ken travels from Essex via the motorway with an empty load and collects earth which he takes back to be used at a nature reserve.
His truck has ABS fitted along with a differential lock, retarder and sleeper cab.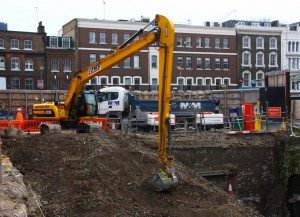 Ken has been working as a tipper driver since he passed his driver CPC just over four years ago.
He has recently completed a lorry mounted crane course that gave him 21 hours towards the renewal of his Driver Certificate of Professional Competency.
Today the weather is fine, but it's been raining most of the week.
[/ms-protect-content][/vc_column_text][/vc_column][/vc_row]