[vc_row][vc_column][vc_column_text css=".vc_custom_1480534938349{background-color: #d16545 !important;}"]
CASE STUDY 88
[/vc_column_text][/vc_column][/vc_row][vc_row][vc_column][vc_column_text][ms-protect-content id="1895,1478″]
Case Study 88
Sally works the occasional Saturday for a haulage company.  Monday to Friday, she has a full-time job working as a gas engineer.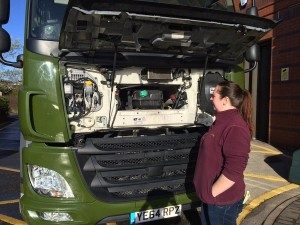 When she arrives at work, her truck is parked on a road with a slight incline outside the depot, as the yard has no space left for vehicles. Today she is delivering goods on pallets to clothing stores in the North East of England.
At the start of the day, Sally must conduct daily checks on the vehicle.
Sally is driving under EU rules.
[/ms-protect-content][/vc_column_text][/vc_column][/vc_row]