[vc_row][vc_column][vc_column_text css=".vc_custom_1480513303933{background-color: #d16545 !important;}"]
CASE STUDY 79
[/vc_column_text][/vc_column][/vc_row][vc_row][vc_column][vc_column_text][ms-protect-content id="1895,1478″]
Case Study 79
Andrew works for a company that hires plant machinery to building sites. His job today involves collecting a digger on an articulated lorry with a 44 tonne gross vehicle weight.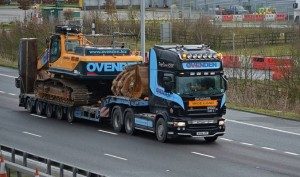 It is a short 10 mile route to collect the digger which takes him through a city centre, on a motorway and past a Driver & Vehicle Standards Agency checkpoint.
After he has loaded the digger, he decides to take a detour which is just over 22 miles in distance.
[/ms-protect-content][/vc_column_text][/vc_column][/vc_row]