[vc_row][vc_column][vc_column_text css=".vc_custom_1480512137868{background-color: #d16545 !important;}"]
CASE STUDY 71
[/vc_column_text][/vc_column][/vc_row][vc_row][vc_column][vc_column_text][ms-protect-content id="1895,1478″]
Case Study 71
Ricky drives an LGV, trunking for an overnight parcel company. He starts work at 8 pm and drives through the night to the central hub near Birmingham. He hands in his keys to the transport office, there, he is told how long it will take the warehouse staff to load his vehicle and when he can depart.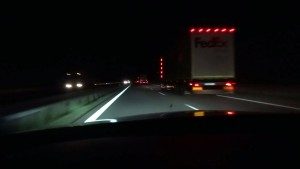 A large portion of Ricky's driving is on the motorway. He is new to the job, and it's his first time working nights, which makes him feel very tired.
Ricky gets a weekly bonus for driving efficiently and saving on fuel costs.
[/ms-protect-content][/vc_column_text][/vc_column][/vc_row]