[vc_row][vc_column][vc_column_text css=".vc_custom_1480492571398{background-color: #d16545 !important;}"]
CASE STUDY 53
[/vc_column_text][/vc_column][/vc_row][vc_row][vc_column][vc_column_text][ms-protect-content id="1895,1478″]
Case Study 53
Sheila drives a left-hand drive 18-tonne gully sucker for a company called ATL Drains. ATL is contracted to clean and repair drainage systems on behalf of Local Authorities in England and Wales.
Sheila started her shift at 04:00 and is expecting to be busy today as the weather conditions have not been good over the past few days. It's not long before she gets a call-out to Birmingham.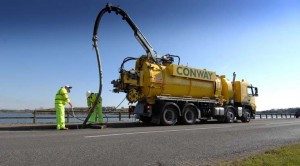 heila must exit the depot and move into the right-hand lane as soon as possible to take the A38 dual-carriageway to Birmingham.
It will take Sheila around 30 minutes to arrive at her destination, and she will spend the next seven hours working at the rear of the vehicle, clearing drains.
[/ms-protect-content][/vc_column_text][/vc_column][/vc_row]