[vc_row][vc_column][vc_column_text css=".vc_custom_1480543976276{background-color: #d16545 !important;}"]
CASE STUDY 27
[/vc_column_text][/vc_column][/vc_row][vc_row][vc_column][vc_column_text][ms-protect-content id="1895,1478″]
Case Study 27
Malcolm's vehicle has a gross weight of 18,000kg and a kerbside weight of 7,000kg. He commences work at 8 am where he completes the daily checks on his vehicle and leaves the yard at 8.30am. Today he has a long drive ahead of him going from London to Leeds.
He splits his breaks taking the first part at 10 am when he stops for a coffee at a motorway service station before resuming his onward journey.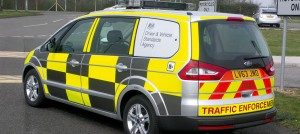 Today Malcolm will be stopped by Driving & Vehicle Standards Agency Inspectors for a roadside check.
[/ms-protect-content][/vc_column_text][/vc_column][/vc_row]