[vc_row][vc_column][vc_column_text css=".vc_custom_1480542977760{background-color: #d16545 !important;}"]
CASE STUDY 19
[/vc_column_text][/vc_column][/vc_row][vc_row][vc_column][vc_column_text][ms-protect-content id="1895,1478″]
Case Study 19
John is employed by a brewery and starts work at 1 am delivering barrels of beer to pubs in the busy city centre of Manchester. His delivery round covers a small area, but is physically demanding and John burns a lot of energy during his shift. On the pedestrianised Canal Street, he makes deliveries to three pubs, all within 40 metres of each other.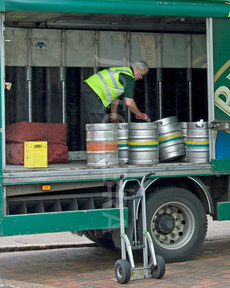 John has recently returned to work following a driving ban for being over the legal alcohol limit.
At the start of his shift, John's transport manager reminds him to check the oil level in his vehicle and to ensure that it's air storage tanks are drained every day.
[/ms-protect-content][/vc_column_text][/vc_column][/vc_row]