[vc_row][vc_column][vc_column_text css=".vc_custom_1480541926216{background-color: #d16545 !important;}"]
CASE STUDY 10
[/vc_column_text][/vc_column][/vc_row][vc_row][vc_column][vc_column_text][ms-protect-content id="1895,1478″]
Case Study 10
Tom is driving a curtain-sided lorry with a gross vehicle weight of 44 tonnes and a kerbside weight of 14 tonnes.
He is due to drive to a builder's merchants in the Scottish Highlands, delivering pallets of wooden flooring weighing a total of 16 tonnes.
It is Tom's first time driving in the Highlands, but he is aware that he will encounter many hilly roads.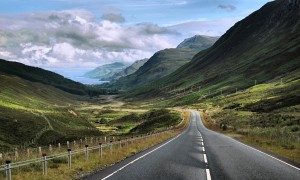 He will meet another driver at a service station to swap trailers before returning to his depot empty.
[/ms-protect-content][/vc_column_text][/vc_column][/vc_row]