The old HGV terminology of class 1, 2 & 3 was made invalid in 1991 and those classes are no more. They were fully replaced with the current LGV categories of C1, C and CE.
Category C (which also covers C1) must be passed before going for CE.
There is no need to pass category C1 before going for C.
The first thing you need is a valid B (car) licence.
If you have a manual B licence then passing any LGV (or PCV) category in an automatic will get you a manual pass in that category.
This does not apply to BE because under current UK law if you pass BE in an automatic you only get BE automatic. This law may be changed in the future.
Next is to obtain the free DVLA D2 provisional and D4 medical forms – you do not have to go to your own GP which can often charge well over £100.
It is also a good idea to order the digital tachograph card D777b form at this point which can also be downloaded from the government website you do not need to have a LGV or PCV to get this, only a B licence.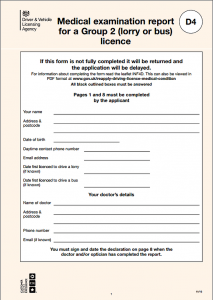 Tick C & D only on the D2 form as this will cover you for all LGV & PCV categories without possible extra medical costs and hassle in the future.
Once the D2 and D4 forms have been filled in then send them back to the DVLA address stated on them along with your driving licence.
A new photo is not required unless your current one has expired – see section 4b on the front of your driving licence.
A good idea is to scan both sides of your driving licence before sending.
The medical will last for 5 years or until you reach age 45 – whichever is the longer. For example if you are aged 42 when you get your first medical then the next medicals will be at ages 47, 52, 57, 62.
From age 65 a yearly medical is needed but quite often that can be from age 65 and 11 months depending on when the current medical expires.
The medical expiry date will be the same expiry date at the side of the category C and/or D on the back of the driving licence.
Once you have your licence back from DVLA you can then book your theory tests at your local theory test centre.
The provisional entitlements will not be shown on your licence and will only be accessible online here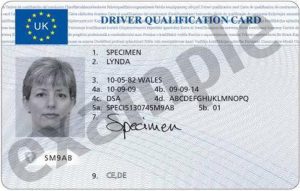 To be able to drive LGVs commercially a driver CPC card (DQC) must be obtained and for most that will mean doing the initial tests consisting of module 2 theory and module 4 practical.
If needing module 2 theory then that, along with module 1a theory and module 1b Hazard Perception Test, can all be booked for the same day at the theory test centre.
Do not be concerned if they are booked with hours between each test because they usually give you the option to do them back to back when you get there.
Practice module 2 case studies & multiple-choice theory can all be found on this website
You must pass modules 1a and 1b tests before taking the module 3 on road practical driving test.
You must pass module 2 theory test before taking the module 4 practical test.
To drive a LGV C commercially you need to pass –
A valid D4 medical
Modules:-
Module 1a Multiple-Choice Theory
Module 1b Hazard Perception Test
Module 2 CPC Case Studies
Module 3 on-road/reverse practical
Module 4 CPC practical Demnonstration
To then get CE you only need to pass the module 3 practical on-road/reverse/un-couple test.
Passed your car test before January 1997?
For those who passed their car test before 1997 a different option is available as they already have LGV C1 on the licence.
They have the option of doing the 35 hours of driver CPC periodic attendance training instead of modules 2 and 4.
The one thing that seems to be lacking for LGV training is the compulsory teaching and testing of the drivers hours regulations.
These are covered a little in the theory test but not enough to give a driver a good understanding of them.